Roof Top Terrace & Lounge Bar Menus
Appetizers
Appetizers
Italian cheese platter
-
58.00
Taleggio | Gorgonzola | Pecorino Romano | Parmesan | Giganti green and black olives
Italian cheese and cold cuts platter
-
95.00
Taleggio | Gorgonzola | Pecorino Romano | Parmesan | Salami | Coppa | Parma | Brescaola | olive verdi e nere giganti
Italian cold cuts platter
-
52.00
Salami | Coppa | Parma | Bresaola | olive verdi e nere giganti
Mozarella Buratta
-
45.00
| fresh tomato | basil pesto | arugula
Beef Carpaccio
-
45.00
| parmesan | arugula | lemon mayonnaise
Roasted eggplant
-
39.00
| goat cheese | arugula | balsamic sauce
Selection of Italian bread
-
10.00
Salads and Vegetables
Salads and Vegetables
Taleggio Tartufo
-
42.00
Telagio cheese | romaine lettuce | polenta | truffle paste | balsamic sauce
Panzanella Toscana
-
39.00
Romaine lettuce | cherry tomatoes | Pecorino | croutons | artichokes
Insalata Nizzarda
-
39.00
Chicken breast | quail egg | green beans | potatoes
Caesar Salad
-
32.00
Romaine lettuce | garlic croutons | Caesar sauce | parmesan cheese | chive | bacon
Soups
Soups
Minestrone
-
28.00
Fresh seasonal vegetables | basil pesto
Zuppa di Pesce
-
32.00
White fish | shrimps | mussels
Pasta
Pasta
Paccheri all`amatriciana Gratinati
-
38.00
Guanciale | tomato | black pepper
Strozzapreti Cacio e Pepe
-
38.00
Pecorino Romano cheese | black pepper
Tagliatelle Spinaci
-
45.00
Chicken | gratinated gorgonzola
Gnocchi di Patate al basilica
-
42.00
Spinach | cherry toamto | basil Pecorino Sardo
Sandwiches
Sandwiches
Beef burger
-
42.00
Lettuce | tomato | crispy onion rings | pickles | fries | white cabbage kimchi
Club sandwich
-
45.00
Wholegrain toast | iceberg lettuce | tomato | baked Cajun chicken | bacon | fried egg | mayonnaise | fries | pickles
Main Dish
Main Dish
Branzino all`acqua Pazza
-
88.00
Seabass | plum tomato | chili | herbs | croutons
Ossobuco
-
72.00
Roasted veal | vegetables | mashed potatoes
Tagliata di Manzo
-
85.00
Rib-eye | arugula | balsamic sauce | parmesan
Pollo Alla Cacciatora
-
52.00
Chicken | olives | celery | tomato | porcini
Desserts
Desserts
Traditional tiramisu
-
28.00
Buffalo mascarpone | coffe | amaretto | sponge cake
Chocolate mousse
-
26.00
| carmelized salty peanuts
Appetizers
These culinary creations will bring to your palate the taste of Italy, Spain up to the Atlantic coast often combined with local hints. Describing in 3 words – variable, delicate, simply unforgettable. All prices are quoted in Polish zloty and include government taxes. Service charge included, gratuity at your discretion.
Salads
Healthy & light compositions of freshest ingredients coated in different spices, topped with delicate sauces and featuring delicacies like for example, Burrata Mozarella. You can't miss it!
Sandwiches
Our sandwiches will suit everyone's taste! Grilled or toasted, with your own selection of additives – this is how we prepare it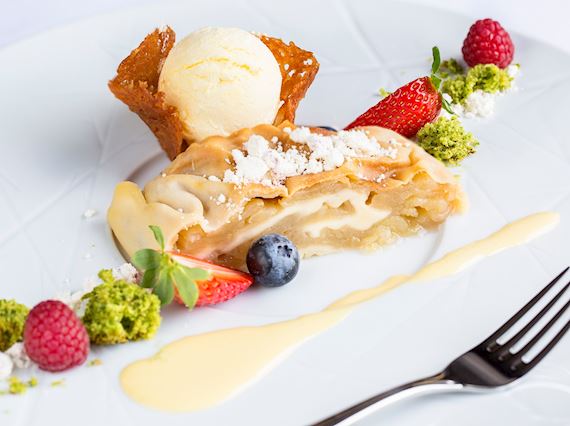 Desserts
Finish off your culinary journey in our Roof Top Terrace & Lounge Bar with one of our mouth-watering, delicious desserts.