Roof Top Terrace & Lounge Bar Menus
Appetizers
Appetizers
Grilled tiger prawns
-
59.00
| fried vegetables | maple syrup | asparagus
Salmon tartare marinated in bison grass
-
45.00
| fresh cucumber | coriander | onion | beetroot mousse | sunflower bread
Spicy chicken wings (8 pcs.)
-
42.00
| vegetable fingers | fries | BBQ sauce | cheese sauce
Vegetables Letcho
-
35.00
| poached egg | coriander
Salads
Salads
Romaine lettuce
-
30.00
| garlic croutons | Caesar sauce | "Łomnicki" local cheese | chives | bacon
Additional prawns (5 pcs.)
Green beans and spinach salad
-
45.00
| mozzarella Burrata | tomatoes | sunflower seeds | parsley pesto
Soups
Soups
Cream of asparagus
-
30.00
/ poached eggs / croutons / fresh parsley pesto
Cracovian sour rye soup Żurek
-
30.00
/ white sausage / horseradish / egg / potato purée
Sandwiches
Sandwiches
Sourdough bread
-
45.00
| grilled tuna in local salt from Wieliczka | cucumber and coriander salsa | lettuce | lemon mayonnaise | fries
Croque Madame
-
40.00
| local Cracovian bread "weka" | local dried sausage | Gouda cheese | béchamel sauce | fried egg
Beef Burger
-
48.00
| lettuce | tomato | red onion | pickles | bacon | cheese | fries | Coleslaw
Club sandwich
-
42.00
| wheat toast | iceberg lettuce | tomato | baked turkey | bacon | fried egg | mayonnaise | fries | pickles
Main Courses
Main Courses
Tagliatelle pasta
-
30.00
| tomato sauce | black olives | anchovies | capers | basil
Additional prawns (5 pcs.)
Pearl barley kashotto
-
42.00
| spinach | leek | broccoli | asparagus | smoked cheese | parsley pesto
Grilled Polish beef tenderloin
-
89.00
| roasted black cumin seeds sauce | fried chanterelle with spinach | potato pancake
Grilled Free-range chicken breast in tarragon
-
42.00
| Béarnaise sauce | white asparagus | young potatoes
Local Ojcowski Trout fillet
-
48.00
| baked sweet potato | butter sauce with dill | zucchini
Baked salmon fillet
-
70.00
| local sheep cheese with onion | pumpkin seeds | red rice | broccoli | creamy corn sauce
Desserts
Desserts
Wild berries Clafoutis
-
30.00
| nut crumble | cappuccino ice cream
Seasonal fresh fruits
-
30.00
raspberry sauce| halvah | mint
Vanilla and chocolate ice cream
-
30.00
| strawberry ground | almond cookie | red currant
Dark chocolate soufflé
-
30.00
| vanilla ice cream | red currant sauce
Appetizers
These culinary creations will bring to your palate the taste of Italy, Spain up to the Atlantic coast often combined with local hints. Describing in 3 words - variable, delicate, simply unforgettable. All prices are quoted in Polish zloty and include government taxes. Service charge included, gratuity at your discretion.
Soups
Unimaginably delightful soups will serve as an inspiration for further menu explorations. Heaven to your palate.
Salads
Healthy & light compositions of freshest ingredients coated in different spices, topped with delicate sauces and featuring delicacies like for example, Burrata Mozarella. You can't miss it!
Sandwiches
Our sandwiches will suit everyone's taste! Grilled or toasted, with your own selection of additives - this is how we prepare it
Main Courses
Culinary magic on a plate inspired by finest recipes of our Executive Chef & his Team. All our dishes are prepared by sourcing the very best of meats & seafood, home-made pasta & freshest vegetables.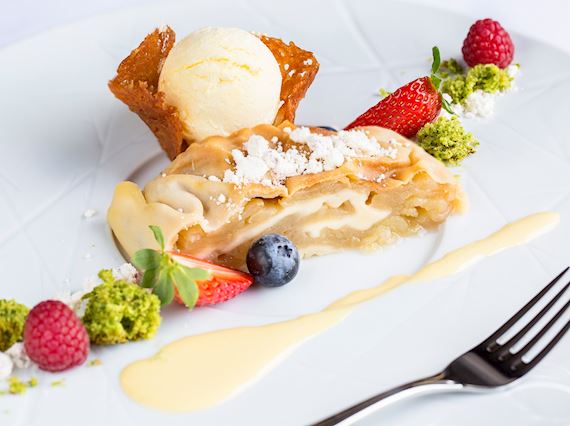 Desserts
Finish off your culinary journey in our Roof Top Terrace & Lounge Bar with one of our mouth-watering, delicious desserts.